Welcome to Our Practice
A Smile Changes Everything
Kimche & Presley Cosmetic & Sports Dentistry practice welcomes you from the Atlanta-Buckhead area . For o ver 25 years , we have been providing the highest quality dental care to patients in the Atlanta area. Our staff is dedicated to ensuring that you feel comfortable and relaxed during each appointment while providing prompt attention to your dental needs. Offering kind, compassionate care to each patient is coupled with state-of-the-art techniques in preventive, cosmetic, restorative, and implant dentistry . Our goal is to keep your teeth and gums healthy while helping you feel and look your best.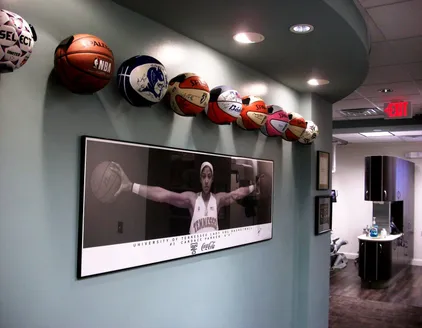 We specialize in Cosmetic and Sports Dentistry, including Cosmetic Crowns , bleaching, and teeth contouring. We also offer Facial Aesthetics, such as Botox® and Juvederm® , to complement your beautiful smile with a fresher, more youthful overall appearance.
Included in our Sports Dentistry , we are the team dentists for Atlanta High Schools , WNBA Atlanta Dream, and Georgia Tech Women's Basketball . We take specialized care with each patient to explain your treatment options and inform you of preventative care as well as cosmetic options.
This website provides an overview of our practice, including our doctors and staff , the services we offer, insurance policies, office location and hours , as well as appointment scheduling procedures. Please take some time to browse around at your convenience, and feel free to contact us with any questions, or request an appointment!
Email us your review at [email protected]